Mangoesmapping supplies and supports cutting edge survey technologies. Let us help you integrate terrestrial and aerial survey technologies tailored to your project.
Converting design into reality
Implementing project designs requires precision. Understanding site layout and validating existing terrain saves you time and money. Give your team the skills to peg a design.
Keep your machines moving – in the right direction. The capacity to grab your gear and do some quick checks on alignment and levels, gives you confidence at the tap of a button.
End-to-end field workflow training
Using GNSS RTK hardware
Using Field survey software for field data collection
Using Field survey software for engineering setout
Establishing benchmarks
RPAS survey technique for field data collection
Post processing desktop skills for

data analysis
high resolution aerial imagery
digital terrain models
generating contours

Data analysis & presentation with QGIS to generate maps
Systems are nothing without the people that drive them. We love delivering workforce GIS software training using language that everyone can understand.
All coursework includes self-paced learning exercises to provide hands-on experience on the software.
Course content is developed with Local Government and small to medium size organisations in mind. Courses can be tailored to suit individual client needs at additional cost.
QGIS
With 10+ years of experience using QGIS in Local Government GIS your training choices include
QGIS Essentials – An Introduction to QGIS
Advanced QGIS – Geospatial Data Editing & Simplifying Workflows.
Advanced QGIS – Geospatial Analysis, Automating Workflows & Exploring Plugins
Advanced QGIS – Cartography and Map Production
QField (QGIS For Field Work) – GIS Administrators
Mangoesmapping offers one half-day QGIS training package:
QField (QGIS For Field Work) – Field Workers (End-Users)
For more information download our QGIS training document.

MapInfo Pro
Mangoesmapping is a Precisely Business Partner with 20+ years experience applying MapInfo Professional. We support our Precisely software customers to extract value from their investment.
Getting Started with MapInfo Professional (1 day)
Introduction to MapInfo Professional (2 days)
Level II – Map Creation & Data Management (2 days)
Level II – Geographic Analysis & Presentation (2 days)
Advanced MapInfo Professional (1 day)
Spectrum Spatial Analyst
Mangoesmapping offers introductory and advanced courses in Spectrum Spatial Analyst.
Course content is hands on and training materials reflect customers user environments.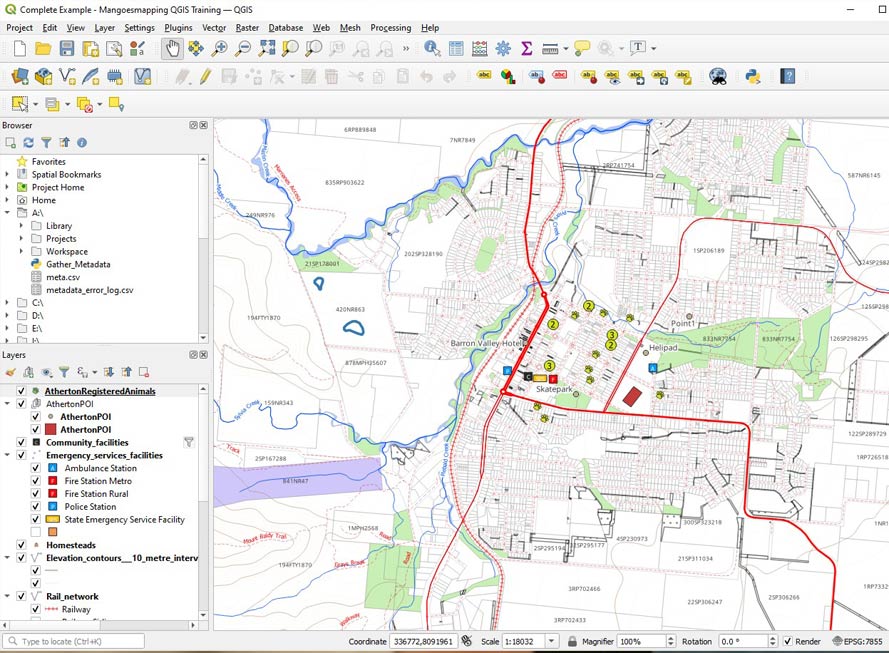 Start working with precision
2
Receive a personalised proposal
3
Start working with elevated precision
Discuss your next project
with us