Mapping the Murujuga Cultural Landscape
How Mangoesmapping helped Murujuga traditional owners and Integrated Heritage Services to precisely map the world's largest collection of petroglyphs.
Murujuga, incorporating the Burrup Peninsula, in Western Australia's Pilbara region, is a unique area in terms of high ecological and Aboriginal heritage values. It contains the Murujuga cultural landscape, the world's largest and arguably most important collection of petroglyphs.
An Ancient Landscape
Some of the petroglyphs are thought to be at least 50,000 years old. It is estimated over a million petroglyphs are throughout Murujuga along with other archaeological sites such as stone artefact quarries, artefact scatters, grinding patches, middens, fish traps, rock shelters, stone arrangements and a proliferation of standing stones.
Murujuga traditional owners are leading the initiative to document their cultural heritage, with assistance from Integrated Heritage Services. The cultural heritage values of this area are currently the subject of a World Heritage Area nomination.
The Challenge
With such a large number of unique and valuable cultural heritage sites located so close together (in some cases, sub-metre), precise positioning is critical to accurately record the location of each site.
After decades of Murujuga cultural sites being mapped with handheld-GPS, Integrated Heritage Services contracted Mangoesmapping to assist with reducing the spatial uncertainty of the cultural heritage sites being surveyed on Murujuga.
The aim of this contract was to reduce horizontal positional uncertainty down to a maximum of +-20cm for horizontal coordinates (latitude and longitude), to better allow the precise relocation of individual sites during future surveys, and improve the visualisation of these sites in relation to each other, particularly where they are in close proximity.
The Solution
Mangoesmapping provided Emlid Reach RS RTK GNSS receivers, a range of tripods and survey accessories and a subscription to Hexagon's HXGN SmartNet CORS network for additional flexibility.
Following supply of the equipment, an experienced Mangoesmapping trainer spent two days onsite with Integrated Heritage Services staff to train them in operation and maintenance of their new RTK GNSS receivers.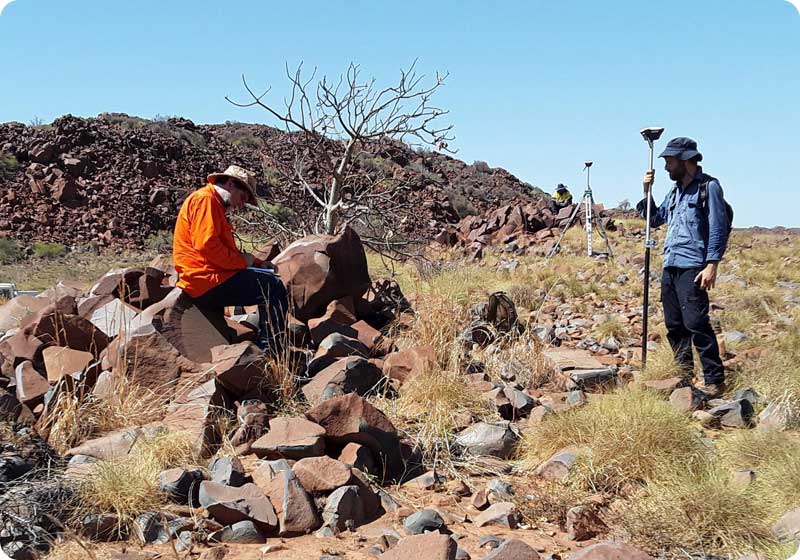 David Mott, Principal Consultant and Senior Archaeologist at Integrated Heritage Services says that 
"Mangoesmapping's combination of professional-grade survey products, detailed reporting and onsite training allows Integrated Heritage Services to deliver results for our customers at very high resolution.
We continue to rely on Mangoesmapping to support our mapping of cultural heritage sites with survey precision."
Equipment used on the job
Emlid Reach RS RTK GNSS receivers
Motion F5M Windows 10 Tablets
Collector for ArcGIS software by Esri with WGS84 project datum.
HXGN SmartNet CORS service (Karratha nearest base with GDA2020 correction)
RTK GPS survey pole, Tripod, Tribrach and adapter, tripod and bipod supports
Mobile network wireless modem
Summary
Integrated Heritage Services (IHS) have embraced their new survey capability to map cultural heritage across Australia following this initial project. Mangoesmapping continues to support IHS with training and hardware upgrades as their company grows.
One of the surprising aspects of the cultural heritage present on the Burrup Peninsula is the many petroglyphs depicting images of the now extinct thylacine (Tasmanian tiger). 
When checking in with David, he mentioned that some of those thylacine petroglyphs have now been mapped using IHS's Emlid hardware!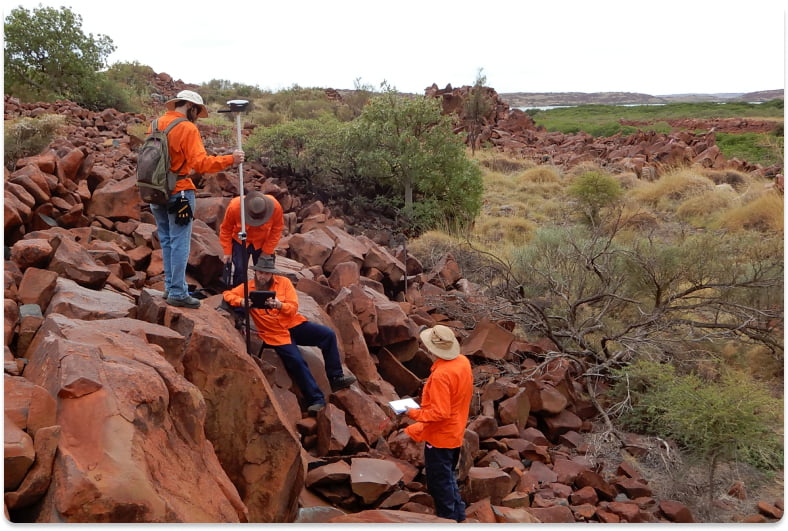 Get in touch
with us today