Cloncurry Shire – Supply Chain Resilience
How Mangoesmapping (and Resilient Projects) helped Cloncurry Shire to enhance supply chain resilience for this north-western Qld community.
Remoteness Requires Resilience
Cloncurry local government area extends across 48,000 sq km with only about 3000 residents. Located in north-west Queensland, the nearest capital city is over 1700 kilometers by road – when they're open… Extended supply-chain lengths can lead to immense challenges during Northern Australia's tropical monsoon – and following extreme weather events such as cyclones.
Challenge
The North Queensland Monsoon Trough event in early 2019 event caused catastrophic damage and loss to communities across northern Queensland, with estimated long-term social and economic costs exceeding $5 billion.(1)
These social and economic impacts highlighted the need to foster resilience for the local community to mitigate against such significant long-term impacts in future. Mangoesmapping were engaged on a project to assist Cloncurry Shire Council to support continued economic activity, following extreme events, through a specific focus on enhancing supply chain resilience.
Solution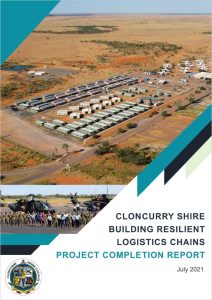 In partnership with primary contractors Resilient Projects PL and Strategic Disaster Solutions, Mangoesmapping helped to identify and map critical supply chain dependencies, with a focus on transport, logistics and communications.
As part of our work, Mangoesmapping helped deliver public consultation workshops on-site in the Cloncurry region. We liaised with local and statewide supply-chain stakeholders to assemble supporting geospatial data.
Leveraging our creative geospatial skills, this data was developed into easy-to-use mapping products to assist analysis and communication in support of recommendations contained in the final project report.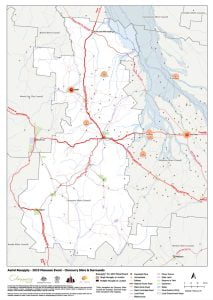 Mangoesmapping also worked with QIT+ to ensure that Cloncurry Shire's adoption of a web-based disaster dashboard and incident management system leveraged spatial information to the greatest possible extent
Mangoesmapping project deliverables included on-site consultation and associated reporting, data collection and analysis, and digital and printed maps.
The project client, Cloncurry Shire Council, subsequently trusted Mangoesmapping with a separate project – delivering and training on a customised enterprise geospatial software solution, to support Council staff to conduct property, planning and engineering tasks with greater efficiency.
Get in touch
with us today