Choosing the Right GNSS Receiver
Choosing the right GNSS receiver can be difficult. To help you make an informed decision, we have developed a comprehensive comparison chart that highlights the differences between Emlid's receivers, enabling you to select the product that meets your specific needs.
Emlid currently offers a range of three GNSS receivers, namely, Reach RS2+, Reach RX and Reach RS+. However, identifying the unique features of each receiver and selecting the one that best suits your workflow can be challenging.
To help you make an informed decision, we have developed a comprehensive comparison chart that highlights the differences between Emlid's receivers, enabling you to select the product that meets your specific needs.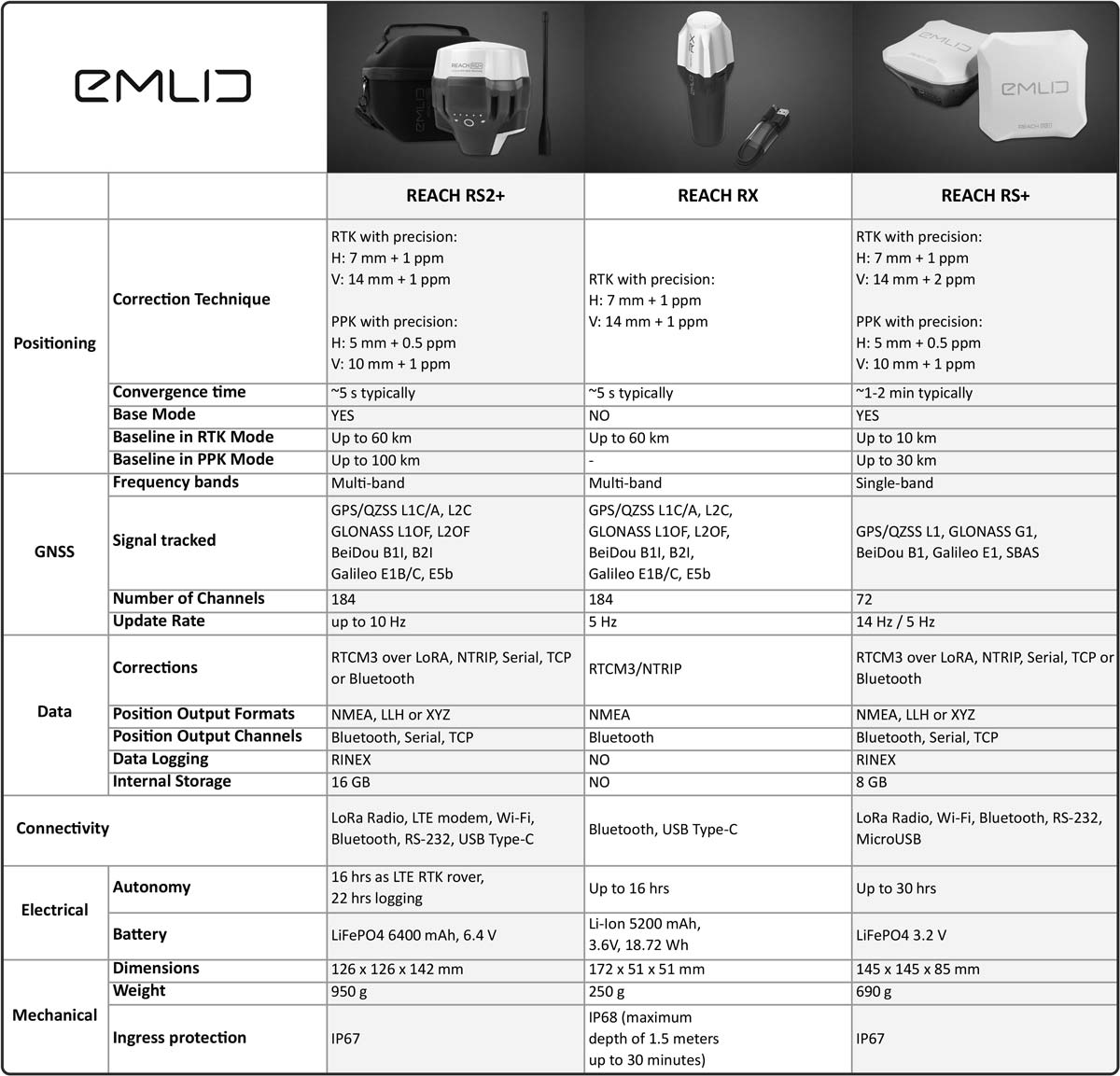 Emlid Product Comparison Table (PDF)
Is There Cellular Coverage?
If you require a user-friendly rover that supports RTK surveying on locations with internet connectivity, then the Reach RX would be an ideal option. The device is small and lightweight, making it convenient to carry around with you wherever you may travel.
Reach RX is compatible with all correction networks (NTRIP) and when used alongside the Emlid Flow app. It should be noted, however, that the device is effective in locations with cellular coverage. Therefore, if you anticipate working in remote areas where cellular coverage may be unreliable, it may be worth considering receivers that can receive corrections over LoRa, such as Reach RS+ or Reach RS2+.
What techniques do you need to use?
If you require a receiver that is capable of handling a broad range of tasks, then Reach RS2+ and Reach RS+ are both comprehensive options worth considering. These receivers are particularly suitable if you conduct surveys in areas where internet connectivity is not available, and you need to use various techniques such as RTK, PPK (Post-processed kinematic), and PPP (Precise point positioning). However, it's important to note that PPP is only available with the Reach RS2+, but we'll cover that shortly.
With Reach RS2+ and RS+, you have the ability to use the devices as both a base that transmits GNSS corrections and a rover that receives corrections from an alternate source. This feature allows you to conduct surveys using receivers in various scenarios such as:
2 x Reach RS2+/RS+ units as a base and rover connected via LoRa,
2 x Reach RS2+/RS+ units connected via Emlid NTRIP Caster,
Reach RS2+/RS+ as a base for another receiver or RTK-capable UAV,
Reach RS2+/RS+ as a rover connected to a corrections network.
Overall, the Reach RS2+ and Reach RS+ are versatile and reliable receivers that can meet the needs of a wide range of surveying applications. Whether you are conducting surveys in remote areas, using UAVs for mapping, or performing precision agriculture tasks, these receivers can provide the accuracy and functionality you need to get the job done. However, if you're unsure about which one to choose, read on to the next section to gain more insights.
Deciding between Single and Multi-Frequency Receivers:
GNSS receivers operate by receiving signals transmitted from satellites belonging to various constellations such as GPS, Galileo, Beidou, and GLONASS. These signals are transmitted at different frequencies. To put it simply, multi-band receivers are capable of receiving more data, making them more resilient in difficult conditions when compared to single-band receivers. Nevertheless, the product selection will ultimately be determined by the project requirements and the available budget.
Here are some more details about the technical differences between single-band and multi-band receivers. These differences are mainly the result of the variation in frequency capability:
Convergence Time: In other words, RTK Initialization time or time to obtain the FIX. Reach RS2+ has a shorter FIX time than Reach RS+ because it can work with more than one frequency band.
Baseline: Baseline is the distance between the base and the rover. Multi-band receivers can work on longer baselines. The Reach RS2+ is a multi-band receiver that has the ability to function with a baseline of up to 60 km in RTK, whereas the Reach RS+, a single-band receiver, is restricted to a baseline of 10 km in RTK mode.
Accuracy: Single-band and multi-band receivers are capable of achieving cm-level absolute accuracy. The primary distinction is that a stable fix solution in a single-band receiver can be impacted by more variables. As a result, obtaining the same absolute accuracy with a single-band receiver is only possible in reasonable working conditions.
Sky View Conditions: It is challenging for single-band receivers to establish a FIX solution if the sky view is limited.
Another factor to consider is the PPP capability of the receivers. If you intend to log RINEX data for processing with the AusPOS PPP service, it is only possible with multi-frequency data. Therefore, in this scenario, the only suitable choice would be the Reach RS2+.
So, how can you ensure that you choose the correct option? Single-band receivers are ideal if you have a clear sky view in your area and do not require long baselines. Conversely, multi-band receivers are suitable for PPP and surveying in more challenging conditions such as urban areas with tall buildings or obstructed views due to trees.
In general, the Reach RS+ is adequate for conducting accurate surveys and collecting reliable data at a lower cost. However, if there is uncertainty or concern about technical limitations, opting for the Reach RS2+ would be a more dependable choice.
Resources
Emlid Product Comparison Table (PDF)
References:
https://blog.emlid.com/single-band-vs-multi-band-how-to-choose-a-receiver-suitable-for-you/
https://blog.emlid.com/how-to-choose-between-reach-rx-and-reach-rs2/
Get in touch
with us today